Lush Decor Light Gray Allison Ruffle Skirt Bedspread Shabby Chic Farmhouse Style Lightweight 3 Piece Set Full
· Feminine, shabby chic style bedspread with fabric and fill content made from 100% polyester – lightweight bedding ideal for summer and spring or layering.
· Lush Decor Allison Ruffle Skirt bedspread has a long, beautiful ruffled edge detail and is the perfect addition to your farmhouse or shabby chic style bedroom decor.
· Elegant and delicate ruffle edge give you a charming and pretty queen bedding set.
· 3 piece set includes a full size bedspread (75" long x 54" wide with a 30" drop) and 2 matching shams (20" long x 26" wide with a 2" ruffle).
· Due to the delicate nature of the design, these items are dry clean recommended.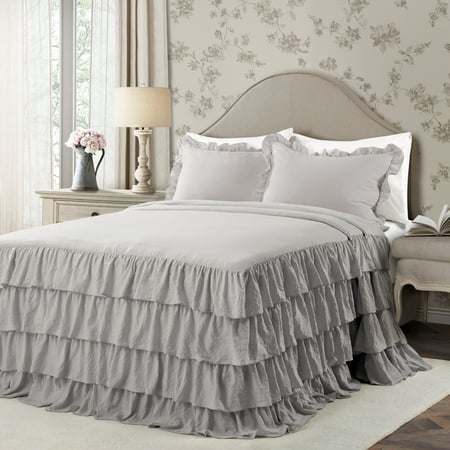 Lush Decor Light Gray Allison Ruffle Skirt Bedspread Shabby Chic Farmhouse Style Lightweight 3 Piece Set Full
Lush Decor Light Gray Allison Ruffle Skirt Bedspread Shabby Chic Farmhouse Style Lightweight 3 Piece Set Full Prices