Marathon Atomic Wall Clock, Wood Finish – Large 9-Inch Display – AM/PM or 24-Hour Time, 8 Time Zones, Indoor Temperature, Day & Date – Two AA Batteries Included
· SELF-SETTING, SELF-ADJUSTING CLOCK – Simply insert the batteries provided & the Marathon Atomic Wall Clock will synchronize to the correct time using radio frequencies broadcast from NIST's Colorado Atomic Clock (only functions in North America).
· LARGE DISPLAY – Our easy-to-read, 9-inch display and the sleek, contemporary design make this beautiful clock ideal for your home, office, school, or church. Easily hang it on the wall or place it on a table using the sturdy, fold-out stand.
· MULTIPLE MODES – Choose between AM/PM or 24-hour format. The calendar displays month, day, and date. The indoor temperature can be displayed in Celsius or Fahrenheit. Language can be displayed in English, French or Spanish.
· EIGHT TIME ZONES – This clock includes all eight North American time zones—a worldwide exclusive Marathon clock feature! Choose from Pacific, Mountain, Central, Eastern, Atlantic, Newfoundland, Alaska, and Hawaii standard time.
· MARATHON – A family company that has been producing timing instruments for over 80 years. Our uncompromising quest for technical excellence allows us to produce the most advanced clock systems with the experience that our long tradition offers.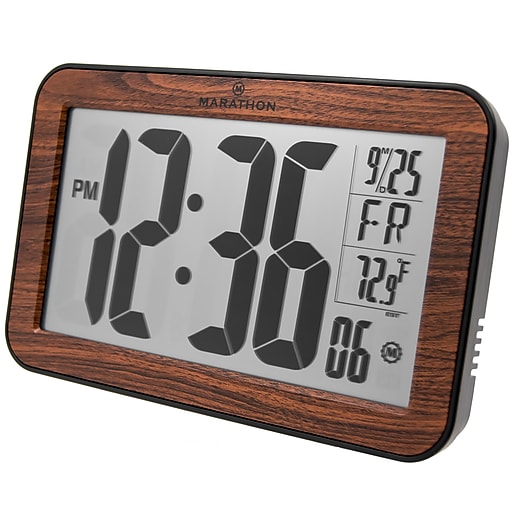 Marathon Atomic Wall Clock, Wood Finish – Large 9-Inch Display – AM/PM or 24-Hour Time, 8 Time Zones, Indoor Temperature, Day & Date – Two AA Batteries Included
Marathon Atomic Wall Clock, Wood Finish – Large 9-Inch Display – AM/PM or 24-Hour Time, 8 Time Zones, Indoor Temperature, Day & Date – Two AA Batteries Included Prices