simplehuman 45 Liter / 12 Gallon Rectangular Kitchen Step Trash Can with Soft-Close Lid, White Plastic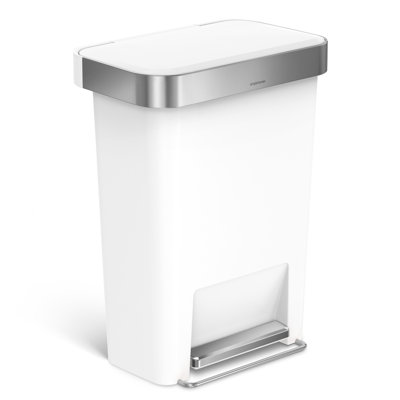 · LINER POCKET – Keep liners where you need them. Dispense them one by one — no perforations or unraveling — from inside the can for a faster liner change.
· NEAT AND SECURE – Stainless steel liner rim flips up for a quick and easy liner change, then closes over the liner to hold it tightly in place and keep it hidden from sight.
· STRONG WIDE STEEL PEDAL – simplehuman's extra-wide steel pedal is engineered to last 150,000 steps — that's more than 20 steps a day for 20 years.
· SILENT CLOSE LID – simplehuman's patented lid shox technology controls the motion of the lid for a slow, silent close.
· STABILIZER BAR – Keeps the can steady for smooth and solid operation.
· INTERNAL HINGE – Prevents the lid from bumping the wall.
· CUSTOM FIT LINERS – Code K liners are designed to fit this can perfectly and are extra strong to prevent leaks and tears. Refill packs dispense liners one at a time and store perfectly in cans with the new liner pocket feature.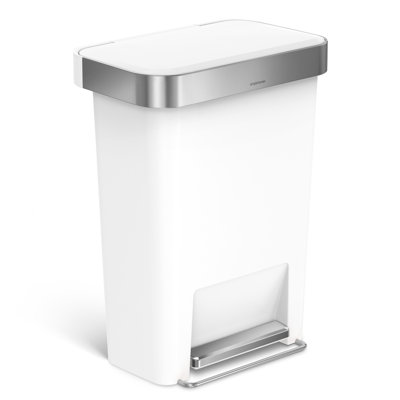 simplehuman 45 Liter / 12 Gallon Rectangular Kitchen Step Trash Can with Soft-Close Lid, White Plastic
simplehuman 45 Liter / 12 Gallon Rectangular Kitchen Step Trash Can with Soft-Close Lid, White Plastic Prices